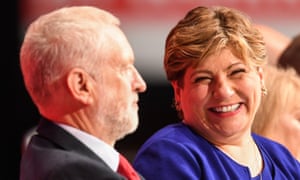 HOURS after Jeremy Corbyn bottled out of sacking Tom Watson, Shadow Foreign Secretary Emily Thornberry has Tonight dared the party leader to sack her.
Thornberry was at the forefront of a march in the centre of Brighton calling for a People's Vote earlier and a rally on the beach alongside Shadow Brexit Secretary Keir Starmer.
Tonight Thornberry has suggested Labour could agree to back a Brexit deal negotiated by Boris Johnson and the Tories on the condition that a second referendum is held.
Thornberry Tells tomorrow's Sunday Express -
"I think it's something we would have to consider."

"We would have to consider it seriously."

"It's a really, really big decision that the country has to make."

"I think it wouldn't be right for Labour to have no opinion on such a big decision."
And in direct opposition to Corbyn, Thornberry said,
"I will pledge to carry out whatever the people decide, as a Labour prime minister."
Earlier, Keir Starmer told the People's Vote rally
"It's very important members are heard on this."

"This weekend we are having an intense discussion about this, so that we can see if we can agree a position everyone can get behind."

"Any polling of members and any engagement with members demonstrates that the majority back remain, and therefore we have to listen to their views on this, but we do have to agree a position that everyone is comfortable with."
Tweet